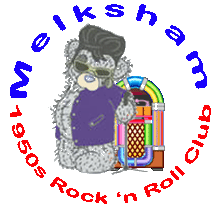 NEWS AND REVIEWS LINKS PHOTOS 2022 2023 2024 HISTORY ACCOMMODATION WHERE ARE WE
Next Dance
All restrictions have been lifted. There will still be sanitizers, but only if you want to bother with it. Masks are optional so if you want to wear one please feel free to do so. The lounge and bar are open so please come and have a great time with a great band and DJ.
Vintage
Saturday 20th August 2022
Tickets are always available on the door or in advance from Melksham Town Hall and Melksham Tourist information Centre
All dances at Melksham Assembly Hall unless otherwise stated
Contacts for more detail::
Geoff: 01225 706463 / 07779 330042 / geoff@melkshamrockandroll.co.uk
Venue: 01225 709887
---
"Let's Keep Wiltshire Rocking!!"
---
© Melksham Rock 'n' Roll, 2002